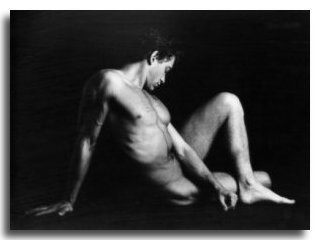 Paul de Delve - Photographer of Nudes
Paul de Delve was brought up in Devon in the West of England. He trained in sculpture, painting and print-making at the Newton Abbott College of Art. It was here that he was introduced to life drawing, developing a fascination for texture and an enduring appreciation of the human figure. It was a chance encounter that led him away from fine arts to photography and the Salisbury School of Art where he studied advertising and commercial photography.
Being an artist among scientists and technicians on a commercial course proved difficult, during his time there Paul was able to experiment with a number of photographic approaches: the use of drop tones which became the vogue in the late sixties and early seventies, dyeing techniques, gum bichromate printing and the construction of three dimensional photomontage.
On leaving Salisbury, Paul moved to London where he worked as a freelance industrial and press photographer for a number of companies both national and international. This work gave him the valuable experience of creating the extraordinary out of the ordinary.
Paul lectured in industrial photography at the Southend College of Arts and Technology. Whilst there he helped establish and became a trustee of the Mostly Photographic Gallery in 1980. Stimulating local interest in photography and early photographic techniques which he refers to as classic photography.
With the decline of British manufacturing industry in the early eighties and the consequent decline in industrial photography, Paul explored new directions. Although he had intermittently taken photographs of nudes during the seventies it was not until 1986 that he turned to photography of the human body in earnest. He experimented again with some of the early photographic processes he had tried at college in an attempt to move a way from straight representational photography. This move embraced the early classic photographic techniques of experimentation with chemicals and paper, photo montage and solarisation. However it is his use of multiple imaging that has opened up new avenues and directions in Paul's latest work.
His feeling for sculptural form is clearly apparent in his photography. Most of his work is studio based allowing lighting to enhance and develop shape, form and texture. The images possess an energy and drama which speak of many influences: the photography of Brandt and Weston, the sculptures Henry Moore and Eric Gill and 40's film noir.
Paul's use of friends and colleagues as models creates a spirit of communication that is unique to his work. There is a spontaneity and sense of liberation that may be absent when the contract between photographer and model is purely commercial. Most of his models are involved in the arts. Although the experience of removing their clothes for the camera is often totally novel, the wearing of masks, veils, heavy make-up or wigs liberates them from their everyday selves; their anonymity allowing them to lose their inhibitions and be transported to other worlds. Paul de Delve photographs both men and women but it is the female form with its sensual shapes, mirrored in nature, that is his major focus.
Many of his works are held in private collections throughout the world. He has mounted many exhibitions both in Britain and abroad. Paul de Delve has actively promoted photography as a creative art form, a view that has only recently taken hold in the UK. He keeps no records of his processing techniques or exposure times. Each print is unique and cannot be replicated.
© Anna Hodgson, 1998.
index | about | review | gallery | contact | glossary | links

Web Design © Xyclomedia, Logo Design © Richard Downer,
Photographs & Content © Paul de Delve & attributed Authors, 1999. All Rights Reserved.